The BBC's Ten Pieces initiative aims to open up the world of classical music to children and inspire them to develop their own creative responses to ten pieces of music through composition, dance or digital art.
Beat Goes On is proud to be a BBC Ten Pieces Champion and to provide CPD that helps schools and teachers to make the most of this inspiring repertoire.
Our CPD programmes for BBC Ten Pieces include:
Body percussion based on Anna Meredith's 'Connect It'
Body percussion & Latin percussion based on 'Mambo' from Bernstein's 'West Side Story'
Our BBC Ten Pieces CPD will give teachers the confidence to to explore and develop performance and composition skills with their pupils.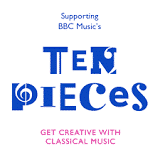 So much fun, definitely full of ideas that can be used in the classroom.